These are the members of the Introduction Committee 2019 – 2020, the new members of 2021 will be presented to you soon. 
Liz is this year's chair of the introdu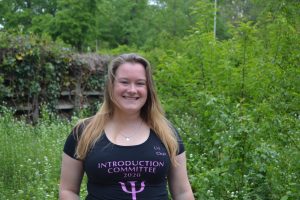 ction committee. She keeps an overview of everything that is being organized for the first year students and helps out all other committee members. Furthermore, she is responsible for the information magazine where you will be able to find all the important information you will need to prepare yourself for your first year of the Psychology program.
She will be starting the fourth year of her bachelor program this September and she works at STIP; the help desk you can contact for any and all study- and course related questions. In her free time she loves to watch FRIENDS while cuddling with her adorable kitten. Another fact about Liz is that she  enjoys keeping everything nice and tidy; her organization skills make her the perfect chair!
Kaylee is a second year IC member and is the vice-chair of the IC, meaning that she supports our chair Liz and
our treasurer Jelle whenever necessary. She also is in charge of the contact we have with the study association of Psychology: SPIN.
She is a third year psychology student and will start her master after this summer. Kaylee loves to travel and has already been to some beautiful places. In her free time she loves riding horses. And last of all she loves planning a bit too much. Besides all the study and IC meetings, Kaylee works as a babysitter.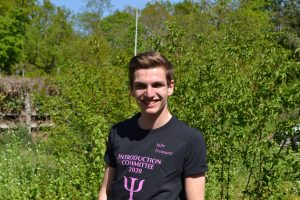 Jelle is this year's treasurer of the introduction committee. He keeps track of all our purchases and makes sure everyone stays within the budget. Jelle is also the person who keeps in touch with our favourite bars and cafes, makes sure our parties are at the best locations, and is in charge of finding sponsors for IC.
He is in his second year of Psychology and is the happiest morning person we have ever seen! His rays of sunshine will put a smile on your face whenever you see him working his morning shifts at the Albert Heijn. Jelle is one busy queen bee, next to working and studying he enjoys going to festivals and has a heart for theatre. If he doesn't have to work the next morning, you can find him at the bar with a glass of red wine and a dress-to-impress outfit!
Mats is our trust person this year, which means you can always call him for advice and his loving support. He is also responsible for the fun games that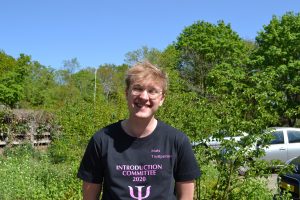 can be played to help the new introduction groups bond and get to know each other better.
He volunteers at the 'kindertelefoon' where he fulfils the role of trust person on a daily basis. Furthermore, he hopes he can study a semester in Canada in the next academic year. In his free time he loves getting lost on long walks with his best friend, creating stories and working on the book he is trying to write.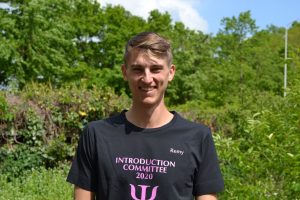 Remy is a second year IC member and is in charge of the Q&A and the campus tour. He is a third year psychology student.
Remy loves to be outside and maybe he always plays when he is outside because he is as playful as a child. Remy is a good addition to the IC because he brings humour in the group but can also be serious when he needs to be. One of his big talents is that he can make fart sounds with his shoulder, which is really impressive.
Nadine is a second year IC member and is in charge of the IC promotion, so if you come across IC posts on social media Nadine is most likely the mastermind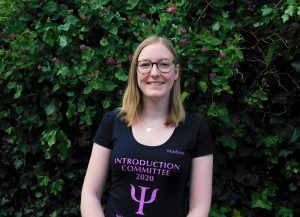 behind it. Next to editing videos and updating our Facebook page with the latest news, Nadine is also in charge of the registrations for the Introduction Week.
She is a second year Psychology student and is very happy with her room in Nijmegen as it will take a rough 3 hour train ride to get here from her hometown in Zeeland. She is terrified of escalators so taking the stairs is more her jam, which is honestly a good workout too! Volunteering at a wildlife sanctuary is on top of her bucket list and one thing she will never stop doing is wearing her socks inside out (this remains a mystery to us).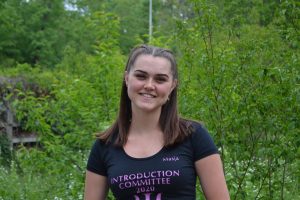 Masja is the creative mind behind the fun activities we have lined up for the first year students on the Sunday evening of the introduction week. Further, she is also responsible for the evaluation surveys that will be sent out at the end of the week.
Besides starting the third year of her study in September, Masja works both as a supervisor and a waitress at a restaurant. Some fun facts about her are that she loves puppies, babies, rewatching shows like FRIENDS and Full House, and that she becomes a "professional" vlogger when she has had a few beers.
Laura is a first year IC member and is in charge of the online city-tour. She is a third year psychology student of the English track.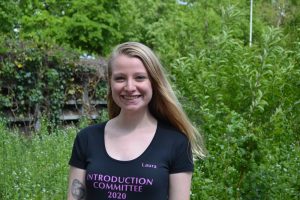 She loves pineapple, and then all of the pineapple. She likes it on her pizza, she likes the design, everything about it. Laura is a party animal, when she goes out, she is the first one on the dancefloor and she is the last one to leave. This will really come in handy during all the party's we will be throwing when this is possible again. And at last Laura is really bad at recognizing sarcasm.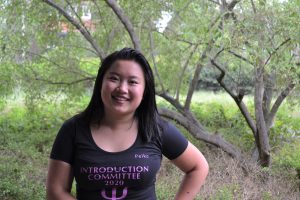 Peike is a first year IC member and is in charge of all our personal activities within IC. She plans our crazy game nights, fun day trips and IC weekends. Moreover, the IC members cannot wait to see what gifts she picks out for their birthdays, as they are always hilarious and spot on! Peike is also in charge of writing down everything we discuss during our IC meetings, but luckily she is a "master multitasker".
She is a second year Psychology student of the Dutch track and organizing flows through her veins. An exciting trip abroad, a fun weekend with friends or a massive party, whatever it is she is definitely up for the challenge. In her free time Peike loves going to festivals and she appreciates good food like no other. Whether it's making sushi herself or going out for dinner to eat some lovely Thai or Italian food, she enjoys it all and could never say no to a nice glass of wine either.
Romy is a first year IC member and is in charge of the try-out lectures and organizing the party's when we are able to party again.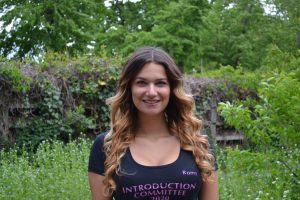 She is a second year psychology student of the Dutch track. In her free time, she loves to fitness, you can find her multiple times a week at the gym. Romy works in the party and events catering for businesses and big events like Strong Vikings. She works full time next to her study and is also learning to become a junior party-manager. We don't know how she can do all this but she is doing it and she is doing it good. Romy also said she loves goats, but who doesn't? They are so cute.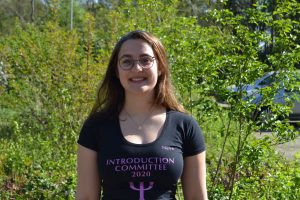 Neve is a first year IC member and is in charge of capturing everything that happens around IC. From the introduction week itself, to our parties and our group activities, Neve and her camera will provide us with all the great memories. She is also in charge of providing information and support to all the new students when they have questions regarding their study program, such as enrolment for courses, how to order course manuals and all other study-related questions.
She is a third year Psychology student of the Dutch track and works at the Spanish Foodbar Fingerz in the city center. In her free time she enjoys taking pictures and drinking special beers is one of her favourite things to do. Although, the thing she loves more than anything are memes and honestly, who doesn't love memes? She will laugh at your jokes like no one else and takes care of the group like a real mama beer 😉