Jelle – who would be better to kick things off with than our theatre enthusiast Jelle, our only 'Brabo'! This year, Jelle is responsible for the SocialCie, which organises bonding activities between the members of the IC. He's also the big brain behind this year's Introduction Week Theme. With his sleight of hand and quick fingers, he's the ideal candidate to scribble down notes of all our meetings. Besides his IC tasks, this man also has an adventurous life. He spends a part of his life in the Albert Heijn, another part in the books for Psychology, another one at festivals and parties (from Paaspop to Rampage) and he's just gotten back from Mallorca. In short, he is energetic, conversational and a true go-getter. Without you, the IC drinks wouldn't be Jellegendary!
Anouk is our embodiment of wanderlust; she has conquered New Zealand in February and March. The mentors weekend is Anouk's responsibility this year, so you'll be able to admire her organisational skills during this weekend! You can recognise her by her cute smile and her beautiful Southern Dutch accent. When she's not at the university or in Limburg, she works at a hospital service desk. In short, she is joyous, a traveller and a critical thinker. Have fun scouting every a-nook and cranny of the world!
Our Belgian member, Remy, is the tallest boy of the IC. Because the IC wanted to go international, we spent the IC weekend at Remy's! As most important member of the mediacie, Remy is in charge of all the photos and videos. Furthermore, Remy is responsible for the Campus tour, giving him the opportunity to show the campus with fun activities. Remy doesn't only spend his time on the IC, he is also a member of THOR (the association not the big green fat guy), therefore he spends every wednesday evening with his cool friends there. That's not all, as a player in the football club FC Kunde he gets the chance to miss a lot of nets. In short, he is big, Belgian and blissful. Raim-y for a great intro!
Menno is world champion competitive otter-eating. He also has dark humor, bringing great joy to the remainder of the IC! Menno is responsible for the promotion of the IC, and furthermore he is the mastermind behind the Wednesday evening activity. He writes articles and summaries for Athena, so he might even be helping you by making it easier to study. Athena is not his only job; he also works at Pinot, the wine bar on the Big Market. A hobby of Menno is cooking, which is the reason that we have enough great food at our activities! In short, he is humorous, literate and a chef. Without you, we would lack an awesome man, no?
Kaylee is our only member who doesn't live in Nijmegen, but in Arnhem! Kaylee is our fiery member who wants to know all the details and always challenges everyone to think their ideas through. This year, Kaylee is our chief executive party animal, as she's the one throwing all the IC parties! If you've got any feedback regarding the Introduction Week, be sure to tell her; she's also the one handling all evaluations of everything Introduction-related. Besides the IC, she loves horseback riding and travelling. Next to that, she's very driven to study and obtaining knowledge. In short, she is well-organised, a traveller and our 'mom'. She's a girl we can always Kaylean on!
Prisca, a.k.a. our 'kaassouflé'-lover, is the one who is always there when you want to have a good conversation about life. This is why Prisca is this years' trustperson! Next to being the person to talk to, she is responsible for the activity at Waalhalla on Wednesday and Psyched. She likes to go to parties herself, so being in charge of Psyched is probably the perfect task for her! Bonus points to anyone that mimics her signature dance move at the IC parties and in the Introduction Week 😉 She is often late at appointments and activities, however, her big smile forces us to forgive her. In short, she is a thinker, a dancer and a little late. She's pri-scared of nothing!
Liz is the busy bee of the group, her agenda is always filled with many appointments and activities! This year, she is in charge of the try-out lectures and the psy-party. At the try-out lectures, she'll try to gather some speakers to give some information. But during the psy-party, her goal is to make the biggest closing party of the week! Next to her IC-tasks, Liz works as a homework counselor and coordinator and she is the chair of the Workshop and Conference Committee of SPiN. Last, but not least, she tries to spend time on her study occasionally. When she has spare time, watching F.R.I.E.N.D.S. is her favorite activity! In short, she is the coordinator, cooperator and real go-getter. We couldn't even begin to lizt all the things we need her for.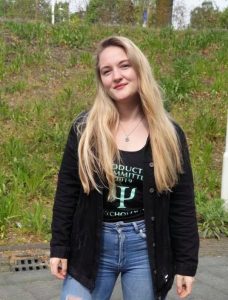 Kira is our best performer; she's the girl that knows the lyrics to every single song played when we party! She has a big heart and a big mouth; she's, however, always caring about others' ideas and feelings! She fulfills the role of treasurer, giving her access to all the funds of the IC. Furthermore, she is responsible for the Pub Crawl and finding sponsors this year. Next to her IC tasks, Kira is trying to complete her Bachelor so that she can start her Master's in September. She also works at the hospital where she transfers beds, which she couldn't do without spending time lifting mad weights at the gym.  In short, she is superb, analytical and lovely. She is the key-ra to our hearts!
Every group needs a clown, which in this group is Mats. He tries to make jokes about every possible situation, so you often don't know if he's serious or not. Yet, this is not always the case. When Mats is working as a homework counselor or as a volunteer at the Kindertelefoon, he is very serious and helps a lot of kids! This is why, at any time, you can have a good conversation about your problems with him. This year, Mats supervises the Sunday Evening Activity, making sure everyone  has an active and fun start of the Introduction! He also guides the Anti-Slack Snack, making sure everyone has enough after-party food! When he's not working or studying, Mats likes to play basketball with his team or chill at the park. In short, Mats is humourous, talkative and caring. He can become best Mat(e)s with anyone!  
Eva is our sports addict; you can find her at the gym very often and she's just quit gymnastics, which she did on a high level for a long time. Eva is the vice-chair of the IC, granting her many responsibilities; mostly stepping in for any tasks the chair or treasurer need her for. When Eva is not sporting or busy with IC-tasks, she can be found writing intake reports at a clinical practice. Furthermore, Eva is great at laughing at any jokes you crack, but can simultaneously make you doubt yourself whether it was really funny by holding her laugh. Moreover, she is intrigued by the lives of others and loves to listen to stories and experiences. In short, she is sporty, worthy and a shorty. We can count on you Eva-ry time!
Our next to-be-introduced member hails all the way from the far-off province of Zeeland (no, not as far as New Zealand)! This crazy girl is the perfect candidate to run this year's Crazy Assignments, so keep an eye out for her! You'll also be witnessing another piece of Nadine's art in the form of the wonderful City Tour. In her spare time, Nadine loves to bake cookies (and definitely not share with the rest of the IC). She's also a big fan of nature documentaries and just might be related to David Attenborough (not quite though). In short, she is adventurous, artsy and craftsy. She's an absolute Nadi-necessity for the IC!
David is our chair. He is responsible for everyone's tasks and when we don't know what to do, David is always there to help us (thanks <3). You may also know him as someone who's there to help you, because he's a workgroup teacher in a lot of courses, like Statistics, Research Methods and Data Analysis. As if that's not enough helping for David, he's also an exam teacher for high school students! This all takes a lot of his time, yet he still makes time to hit the books for Psychology. In other words, David is very busy, but always there for everybody. When he has his little me-time, he loves to watch Rupaul's drag race, so make sure you're prepared for his puns about that. In short, David is reliable, responsible and our drag connoisseur. He is the Dav-ideal chair!
.